Adore · Blush · Wooden legs · Oak oiled
W: 71.0 cm / D: 76.0 cm / H: 81.0 cm
---
Personaliseer je eigen ideale stoel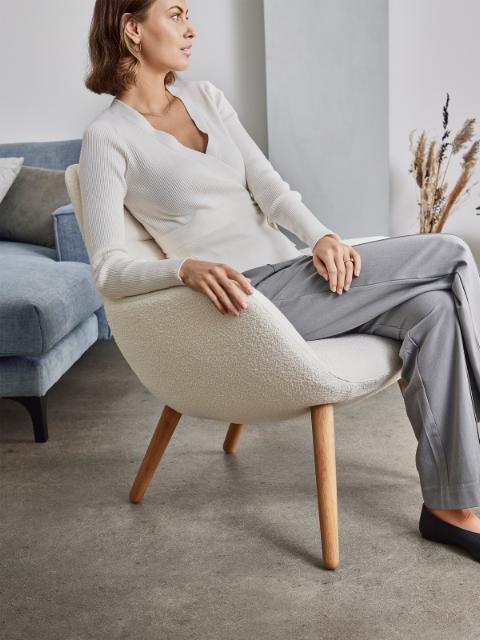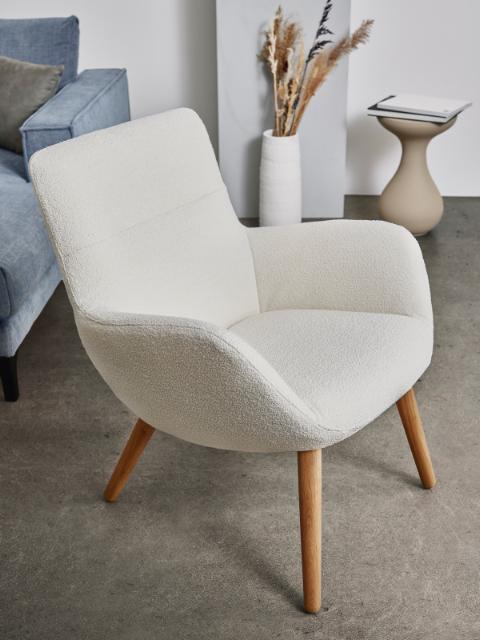 Bourbon Wood stoel
De Bourbon fauteuil in geolied walnoot of eiken geolied hout is een Scandinavische designklassieker. Zijn stijlvolle uitstraling zal elke woonkamer accentueren en zijn eersteklas kwaliteit garandeert dat u er jarenlang plezier van zult hebben. Ontworpen door Jacob Würtzen, biedt de Bourbon flexibiliteit en rustgevend loungen en voegt een vleugje Scandinavische persoonlijkheid toe aan kleinere kamers of grotere interieurs.
Deze loungestoel is verkrijgbaar in vele kleuren. Het wordt geleverd met onze 10 jaar garantie op koudschuim en binnen frame.
Over onze dynamische schuimlaag
Om onze producten super duurzaam en uniek comfortabel te maken, gebruiken we een materiaal dat koudschuim wordt genoemd. Dit materiaal is de reden waarom onze stoelen jaar na jaar hun vorm en flexibiliteit behouden. Het schuim bevat echt kleine luchtkussentjes, als kleine belletjes binnenin de dichtere structuur, die zorgen voor precies de juiste stevigheid. Nadat we het schuim hebben gevormd, werken we aan de bekleding die met de hand wordt genaaid en perfect past. Het resultaat? Stoelen die er vanuit elke hoek elegant uitzien en niet doorzakken.
Dat is wat langdurig comfort biedt, vanaf de eerste dag dat je je stoel krijgt en vele jaren daarna.
10 jaar garantie
Al onze stoelen zijn gedekt door onze 10-jarige garantie op het dynamische bekledingsschuim, de veren en het binnenframe.
Specificaties:
Beschrijving
| | |
| --- | --- |
| Productnaam | Bourbon Wood chair |
| Productnummer | 3306109256409 |
| Productgroep Beschrijving | Lounge chairs |
| Height | 81.0 cm |
| Diepte | 76.0 cm |
| Volume | 0,4 |
| SeatingHeight | 44.0 cm |
| Width | 71.0 cm |
| Zitdiepte | 49.0 cm |
Stof
| | |
| --- | --- |
| Productnaam | Bourbon Wood chair |
| Kleurgroep | Rood |
| Kleur | Blush |
| Stof naam: | Adore |
| Stof naam: | Stof |
| Samenstelling | 100% polyester |
| Licht snelheid | 4/5 |
| Pilling | 5 |