Earth · Forest · Vision · Chrome
W: 73.0 cm / D: 78.0 cm / H: 79.0 cm
---
Personaliseer je eigen ideale stoel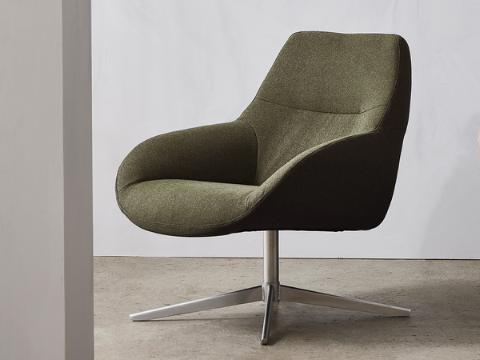 Lilly stoel
De Lilly fauteuil, ontworpen door Kebe, is een zeer comfortabel strak design dat Scandinavische functionaliteit combineert met een moderne uitstraling. De Lilly heeft een draaibare basis voor een scala aan bewegingen en zorgt voor flexibele ontspanning. Zet hem aan de salontafel of bij een raam en het wordt al snel je favoriete loungeplaats. De Lilly is verkrijgbaar in verschillende stoffen en kleuren, van warm Hazelnootleer tot koel lichtblauw vilt. Er is keuze uit een chromen, zwarte of aluminium onderstel en 10 jaar garantie op koudschuim en binnen frame is inbegrepen.
Over onze dynamische schuimlaag
Om onze producten super duurzaam en uniek comfortabel te maken, gebruiken we een materiaal dat koudschuim wordt genoemd. Dit materiaal is de reden waarom onze stoelen jaar na jaar hun vorm en flexibiliteit behouden. Het schuim bevat echt kleine luchtkussentjes, als kleine belletjes binnenin de dichtere structuur, die zorgen voor precies de juiste stevigheid. Nadat we het schuim hebben gevormd, werken we aan de bekleding die met de hand wordt genaaid en perfect past. Het resultaat? Stoelen die er vanuit elke hoek elegant uitzien en niet doorzakken.
Dat is wat langdurig comfort biedt, vanaf de eerste dag dat je je stoel krijgt en vele jaren daarna.
10 jaar garantie
Al onze stoelen zijn gedekt door onze 10-jarige garantie op het dynamische bekledingsschuim, de veren en het binnenframe.
Specificaties:
Beschrijving
| | |
| --- | --- |
| Productnaam | Lilly chair |
| Productnummer | 3813188432438 |
| Productgroep Beschrijving | Lounge chairs |
| Diepte | 78.0 cm |
| Volume | 0,4 |
| Width | 73.0 cm |
| Zitdiepte | 49.0 cm |
| Hoogte | 79.0 cm |
| Zithoogte: | 39.0 cm |
| Retour Wartel | No |
Benen & Voeten
| | |
| --- | --- |
| Retour Wartel | No |
| Voet type | Vision |
Stof
| | |
| --- | --- |
| Productnaam | Lilly chair |
| Kleurgroep | Groente |
| Kleur | Forest |
| Stof naam: | Earth |
| Stof naam: | Stof |
| Samenstelling | 100% gerecycled PET |
| Licht snelheid | 5 |
| Pilling | 4/5 |